A Second Revenue Stream
I tweet a lot. If you know me, you're nodding your head in agreement. As of this post, I've tweeted 34,223 times, and while a large majority of those tweets are direct replies, it's still a hefty number that could make you say, "Bill, you need a day job." Good thing it's been a legit part of my day job, both in my past and current careers.
But imagine getting paid to tweet. It's happening. Well, not for me, of course, but for celebrities and athletes. In an earlier post, I wrote about this growing social media trend and how there's an emerging artform of wording a tweet to gain a high number of clicks.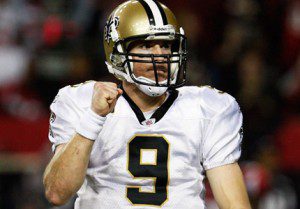 To be clear — I'm all for the idea of sponsored tweets. Spiracle Media helps our clients land those opportunities. It's an additional revenue stream for the athlete and it's an avenue for companies to advertise to an ever-growing number of eyeballs.
But I'm wondering — Can an athlete overdo it? I'm specifically curious about Drew Brees.
Super Pitchman
A Super Bowl ring, high-powered offense and good-guy image makes the New Orleans Saints quarterback an ideal pitchman for advertisers and Brees has certainly taken advantage. A record-breaking 2011 season catapulted him into the top-spot of Bloomberg Business Week's "Power 100" in 2012. He reportedly earned $16 million in 2011 and only half of that was his salary with the Saints.
On Twitter, Brees recently shot past 1 million followers, which according to statista.com, makes him the 6th-most followed player in the NFL. It's really the perfect combination: a star pitchman with loads of fans (a.k.a potential customers) potentially reading his tweets.
If you're one of the million-plus following Brees, you'll see occasional updates about his family or New Orleans culture. But you'll also see #VapoDad, #Kinect and @JimmyJohns. On the bottom left of his profile page, you'll also find this: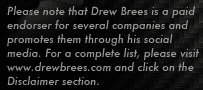 And what a list it is: AdvoCare, Brand Affinity Technologies, Cameo Stars, Cisco Systems, EA, Entercom, Florida Marine Transporters, GT Sports Marketing, Mercedes, NFL International, NFL Properties, Nike, NOLA Fine Art, Omni Bank, Pampers, Panini America, Pepsi-Cola, PowerBalance, Purdue Employee Federal Credit Union, The Topps Company, TRX, Turf of Champions, Tyndale Publishing, Upper Deck Company, Verizon, Vicks and Visa. 26 companies — not including — the New Orleans Saints.
As the disclaimer proves, it's not like Brees and his management team are trying to hide the fact that their hands are in more than two dozen pots. It's actually quite the opposite — Transparency is cool. But with so many sponsors, Brees is in danger of drowning out his messages with so much noise.
In his last 100 tweets, Brees included some sort of advertising message 42 times. On Feb. 23, he sent out five tweets about Jimmy John's (he's a franchisee).
Get ready for @jimmyjohns Customer Appreciation Day, Thurs 2/23, $1 subs from 11-3 pm, limit 1 per customer, inshop only – this is insane!

— Drew Brees (@drewbrees) February 20, 2012
Be a Better Mixer
So is this truly a match made in sports marketing heaven? I think fans and followers could be turned off by such a high volume of sponsored tweets. Brees needs to do a better job mixing in his personal side. That's what's helped make Twitter the force it is today — Athletes pulling back the curtain to reveal sides of themselves never before seen. Fans are following for that stuff, not the ads. Most will deal with those sponsored messages — to a point. I wonder if Brees crossed that point by using nearly 50 percent of his last 100 tweets to sell, sell, sell.
It's in the best interest of athletes, sponsors and fans to use Twitter for its most powerful purpose — a peek into an interesting life. The sales stuff can work, but it has to be an occasional sprinkle, not a shower.