In March of 2011, Spiracle Media was founded by three former sports anchors in the Charlotte market with the goal of helping athletes leverage their brand by utilizing social media and video. Over the years since, we have become a high-end producer of video content.
Harnessing the power of collaborative vulnerability, we use empathy, competence, and courage, to unlock everyone's storytelling potential.
We EMPOWER YOUR VOICE.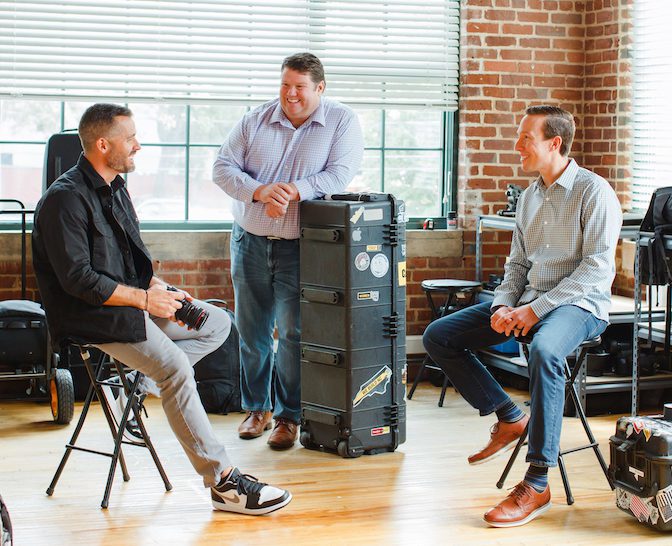 Spiracle Media delivered more than expected, from pre-production to onsite to post-production. Very thorough, professional, and organized. We will be using their services again!
Spiracle is much more than a video production company. They are a true partner that goes above and beyond.
The team at Spiracle is simply amazing. They are expert storytellers that help to capture the emotion and content in a meaningful way. I highly recommend them.
Finding a name is an exciting and scary aspect of starting a new company.
Spiracle Media was founded with the tagline, "We Create Buzz."
During a late night Google session, our BEE research landed on the word "spiracle." Why did it stick?
Spiracles are the tiny holes on the bee that help with the respiratory system. So while giving life to these little creatures, they're also responsible for the buzzing sound you hear. We like to believe that we have been creating buzz for our partners ever since.
We have built a team that solves problems rather than creating new ones. Our team members have worked in mainstream media and at agencies, telling stories, for their whole career
We are always looking for talented and skilled individuals that fit our culture. If you think you have what it takes to work in a fast paced, creative environment — check out our openings.
Please take some time to tell us about your latest project or partnership that we can help you with. You can also call us at 1-844-774-7225. If this is a job inquiry, please send an email directly to info@spiraclebuzz.com.