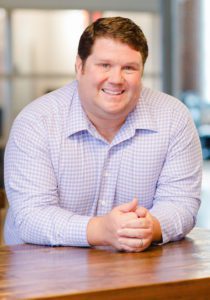 Charlotte, NC – Spiracle Media's Chief Executive Officer (CEO) Tim Baier was selected as one of the honorees for the Charlotte Business Journal's "2022 Most Admired CEO" award. This award recognizes established leaders who have a strong vision for their companies and have made significant contributions within the Charlotte community as well as a commitment to company culture and values.
Tim is a master storyteller, entrepreneur and small business champion. He spent nearly a decade working as a sports anchor and reporter before co-founding Spiracle Media. Tim's forward-thinking vision has been key in strategically propelling Spiracle forward and turning the company into the largest video content agency in Charlotte. Spiracle currently works with multiple Fortune 500 companies along with many national brands and agencies.
"Our goal from a business standpoint is to always create value for our partners that's relevant to the changing landscape. One of my greatest joys is to watch our team grow and conquer new challenges," states Baier.
In addition to running Spiracle, Tim also sits on the Board of Directors of the Entrepreneur Organization of Charlotte, is the President of the Board of the Metrolina Business Council, and actively supports Junior Achievement and the YMCA of Greater Charlotte through mentorship, fundraising, and sponsorship opportunities.
Nominations were open to the public December 2021 – April 2022 and came from various members across the business community. Honorees were then selected by Charlotte Business Journal's editorial team.
Tim and the other honorees will be featured in a special report in the June 17th issue of the Charlotte Business Journal. More information can be found on the Charlotte Business Journal.